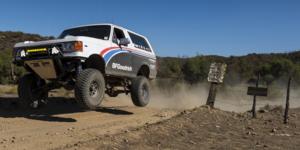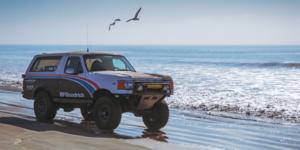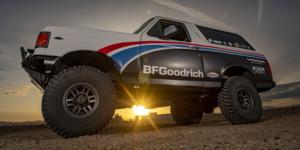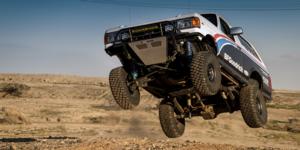 Ford Bronco
WHEEL:
Vision Off Road 355 Manx 2 Overland
FINISH:
Satin Grey
WHEEL SIZE:
15
TIRE:
BFGoodrich Tires Mud-Terrain T/A KM3
TIRE SIZE:
35x12.50R15
OFFSET:
0
SUSPENSION:
12" 3.0 King IBP coilover shocks
Powerplant: An upgraded 351w pulling 450hp. It also has a Flowmaster muffler and oversized UMP air filter for dust removal. Drive train: John Wood built E4OD automatic transmission with external coolers. Transfer case is stock, for now. Rear end is a trussed big bearing Ford 9" Yukon nodular case with 31 spline Currie axles, 4:56 gearing and Detroit locker. Front is a trussed D44 twin traction beams also with 4:56 gearing. Custom drivelines, front and rear, by Axis Metal Design. Suspension: 12" 3.0 King IBP coilover shocks. Rear is 3" King smooth body and a custom leaf spring pack by Kris Hernandez. Other features include a custom swing-set steering and interior cage from Solo Motorsports. Interior: Custom UPR racing/Sparco seats, ARB fridge/freezer, Lowrance GPS, Rugged race radio and intercom and a custom rack built to house a pit box, camera gear and a spare BFGoodrich KM3 Mud terrain tire. Exterior: Baja Designs LED lighting and Vision wheels. Also a converted stock spare tire carrier into a fuel and water rack and custom bumpers, front and rear.